The St Joseph's School App is available in the app store for android and Apple phones.
Simply search 'St Joseph's Primary School Narrabeen' within the App Store to download.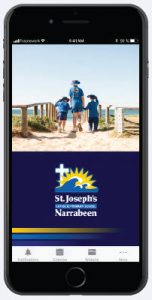 The app ensures parents and staff can stay up to date with all the latest school information on your iOS and Android smartphones, while also providing a valuable "notifications" feature to help you stay connected.
Please allow Push Notifications so you receive important notifications automatically without going into the app to check.
The St Joseph's app draws information from the website so you can view:
Calendar for school events
Newsletters
Notifications – alert function for reminders and emergency events
News
Contact Details
iTunes
Google Play
Student absences can be notified via email to sjn@dbbcatholic.edu.au
The St Joseph's App replaces PPP (PrimaryParent Planner)