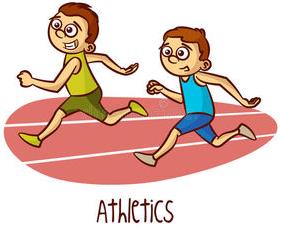 Athletics Order of Events & Expectations
Times may vary slightly on the day.
The 2019 school athletics carnival will be held on Friday 2nd August at the Academy of Sport, Wakehurst Parkway, Narrabeen (Week 2 Term 3).
All children will be required to travel to the venue by bus with the whole school. The bus will leave school at 9.15am and return at 2.30pm. Should you wish to take your child home at the conclusion of the carnival (expected time is 2 pm) please indicate on the Google form (link below).
The carnival will run simultaneously as an infants skill development carnival for kindergarten and year 1 on the grass area in the middle of the track (this includes modified field events, novelty races, relay and running races) and a primary carnival for years 2-6.
5, 6, 7 YEAR OLDS
Are eligible to compete in the track in the 70m and 100m
ALL AGES
100m – these are run in separate age groups and separate boys and girls
ALL OTHER EVENTS
800m – this event is run as a timed final – Junior (under 8, 9 and 10's), 11 yrs and 12 yrs
200m – this event is run as a timed final – Junior (under 8, 9 and 10's), 11 yrs and 12 yrs
FIELD EVENTS
Long Jump, High Jump, Shot Put and Discus – please note all field events are grouped into Junior (under 8, 9 and 10's); 11 years and 12 Years
UNIFORM
Students must wear their sports uniform including a hat and their colour house t-shirt.  Please remember to bring recess, lunch, drinks for the day, sunscreen and any required medication
VOLUNTEERS
As always, without our PARENTS we could not run a carnival. If you can spare anytime on the day please complete the google form included.
GOOGLE FORM
https://docs.google.com/forms/d/1bj9cs1c0AxDd9rza3UL8DdJI1MS4v4-i_uNjDBSrq6o/viewform?ts=5d131db3&edit_requested=true
Please submit this form indicating which events your child will be competing in and if you are able to assist on the day no later than Friday 26 July 2019. (end of Week 1 Term 3)
IMPORTANT
Please complete and submit individual forms for each child
Thank you for your assistance and cooperation.
Mrs Frost – PE Teacher