Welcome to the Canteen!
All volunteers must be fully vaccinated and sign-in at the school office prior to working in the canteen.
Any parents new to volunteering must complete a Volunteer Declaration Form BEFORE your first day of volunteering.  Please complete the linked online form which will automatically go through to the school office.
If you'd like to sign up for a shift, please email Nicole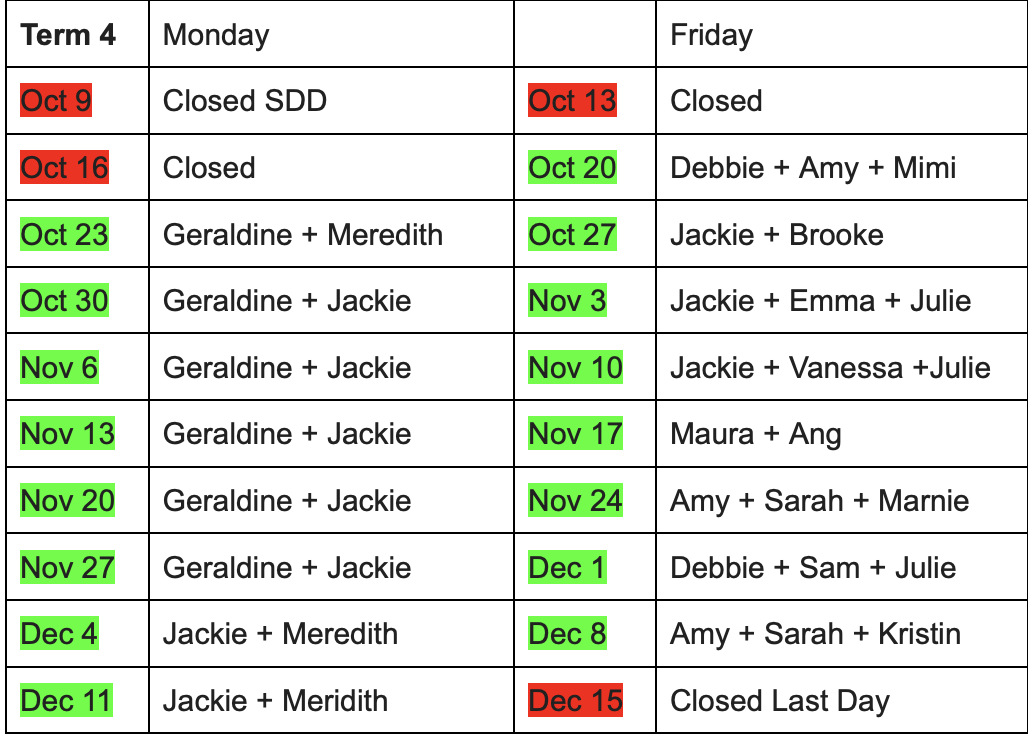 The canteen will be open for LUNCH ORDERS ONLY this term.  There will not be any over-the-counter service at recess/lunchtime.
Days marked red are currently closed, and will open once we have the required number of volunteers.  We require two volunteers to open canteen, with one being an experienced volunteer.
Volunteering on Partial Days
Have you thought about volunteering for canteen, but can't spare a whole day? We totally understand that everyone has different commitments, and we are trying to make it easier for you to be able to help in a way that works for you.
We have created two different canteen shifts:
Full Shift – 9am-1.30pm – this shift ensures canteen will run smoothly for the day – must be experienced volunteer
Short Shift – 12pm – 1.15pm – this shift is to help pack lunch bags and hand out ice blocks – no experience required​
What we need to run canteen:
Monday:
1 volunteer for the Long Shift – must be experienced
1 volunteer for the Short Shift – no experience necessary
Friday​
1 volunteer for the Long Shift – must be experienced
1-2 volunteers for the Short Shift – no experience necessary
Please note this is the minimum amount of shift coverage we need to be able to open canteen – if 2 volunteers would like to stay for the full shift, that is most welcome – it is fun with a buddy!
If you would like to become an experienced canteen volunteer, you will need to do a few full shifts with an experienced volunteer so that you can see how the days runs, from start to finish.
Canteen operation and Qkr ordering
The canteen is open Mondays and Fridays provided we have volunteers.
Any student who wishes to buy lunch from the canteen needs to have a Qkr lunch order placed.
Lunch orders can be submitted on Qkr two weeks in advance.
Please avoid trying to order "on the morning" as Qkr gets very busy and you may not be able to process your order.
Please take note of the date you select for "order delivery". There is a two week period on the screen to choose from.
On dates where we do not have volunteers, you cannot "accidentally" place a Qkr order. The system is closed off.
Please check this page weekly to see when the canteen is open.