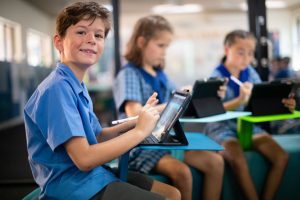 At St Joseph's we believe that children need a rich and balanced education whereby a range of learning opportunities are implemented and embedded. Digital technologies support our authentic and engaging learning environment. We acknowledge that 'point of need' access to IT devices creates new learning and teaching possibilities, enhances creativity, raises the level of engagement and gives students voice and choice in the way they express their knowledge and understandings. As children progress through the grades, becoming more competent and discerning with the use of devices we increase the level of access.
By offering the option to parents of students in years 4-6 to provide their child with an iPad for use at school we increase access to all devices across the whole school. iPads are one form of digital technology that are easy to manage and portable for primary students.
One of the side benefits for students having their own device is the increase in responsibility to look after their possessions.  This assists students greatly in getting ready for high school, where all students are required to have their own device.
Our teachers engage in professional learning about the effective use of iPads and other technology through the Apple Educator program and other programs offered by the CSBB. We use the Apple Classroom Management tool for teachers to have more control of the iPads while in class.
At St Joseph's the specifications of the iPad required in 2024 for our "iPads for Learning – BYODD" program are linked below.
Purchase option via CSBB
CSBB has recently set up a purchase site for parents which gives heavily discounted option due to mass buying power.
Purchase from the portal is not mandated.  It is however recommended, to support clarity for parents regarding acceptable specs for the three year expected life-cycle of devices, along with seamless enablement of end point management.
The devices are delivered to your home address.
Due to Commonwealth legislation, the Apple Care+ plan (insurance) cannot be offered by the vendor directly until a cooling off period lapses. The Vendor will provide instructions for families to follow once this occurs.
Of course, parents may wish to shop around and determine their own insurance and this is welcomed, keeping in mind there is strong recommendation for coverage.
Please note the very recently added 9th generation iPad is on offer. Unfortunately there is no 128GB option (only 64GB and 256 GB).
LINK TO PURCHASE: CSBB 24 ST Joseph S Catholic Primary School | Virtunet inMart
BYODD 2024 - Minimum Specification Requirements
Parent & Student Agreement - iPads for Learning BYODD Agreement
APPS to download for iPads for Learning BYODD