At St Joseph's we proudly wear our school uniform 
Please note: If you have a child starting school in 2022, we would advise you to please hold out on purchasing the uniform just yet as we are currently working through potential new uniform options. 
Our uniforms are supplied by Cowan and Lewis, and can be purchased online at their store here.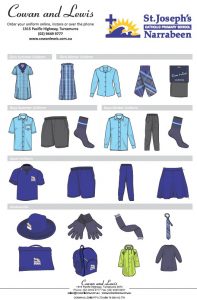 Hover over the SHOP ONLINE link and look for the St Joseph's Primary School logo.
Uniforms can also be purchased from their retail store at 1315 Pacific Highway, Turramurra. During Covid 19 the retail shop hours have been changed, please phone 9449 9777 to check opening times prior to visiting.
Items purchased online can be delivered to school (free of charge) or to a home address for an additional postage charge.  Items shipped to school will be sent home with your child.
Returns/Refunds can be arranged by completing the Exchange Form below and returning the to the school office with your clothing to be exchanged.  Please attached the exchange/return form to the packaging of the item you are returning (in a bag).  The replacement item will be delivered to the school office on the next delivery day.
Cowan & Lewis Online Store
St Joseph's Primary School Uniform Catalogue
Exchange & Refund Form - Cowan & Lewis
Online Ordering Instructions - Cowan & Lewis
Purchasing at our Retail Store - Cowan & Lewis
Second Hand School Uniform Shop – How does it work?
We have limited stock in our second hand uniform shop.  All items have been donated by other families in our school community, however we do not have every item and every size.  All money received in the second hand uniform shop goes directly into our P&F account.  Items (in good condition) for donation can be left at the school office with Kerrie.
Our second hand uniform shop is operated by one of our parents, who volunteers her time whilst also being a working mum.  Therefore, please allow a week for delivery.
How to order
Text Naomi on 0421 667 989 and let her know what you need, ie "do you have a size 10 summer dress?"
Naomi checks stock when she is next in school
Item(s) are sent home with your child for you to try on/decide if you would like to purchase
Any items you do not want, send back to school office
Any items you want to keep, text Naomi to let her know and THEN make your payment in Qkr.
Please DO NOT pay for items on Qkr before you have received the uniform items.
Naomi      M: 0421 667 989   
Second Hand School Uniform Shop Coordinator
Summer Uniform GIRLS

Summer tunic
Grey socks (ankle)
Zip Jacket
Wide brim hat
Black school shoes
Sport
Blue logo sports shirt (short sleeve)
Blue (Royal Blue) shorts or skort
White socks (ankle)
White runners

Winter Uniform GIRLS

Winter tunic + Girls winter tab tie
Blue (Sky Blue) long sleeve blouse
Grey socks (knee high) or Grey stockings
Zip Jacket
Black school shoes
Sport
Blue logo sports shirt (short sleeve)
Blue (Royal Blue) sports short or skort
Blue (Royal Blue) tracksuit pants
White runners

Summer Uniform BOYS

Blue (School Blue) short sleeve shirt with emblem
Grey shorts
Grey socks (ankle)
Zip Jacket
Wide brim hat
Black school shoes
Sport
Blue logo sports shirt (short sleeve)
Blue (Royal Blue) sports shorts
White socks (ankle)
White runners

Winter Uniform BOYS

Blue (School Blue) long sleeve shirt
Grey long pants
Boys winter tie (striped)
Grey socks (ankle)
Zip Jacket
Black school shoes
Sport
Blue logo sports shirt (short sleeve)
Blue (Royal Blue) sports shorts
Blue (Royal Blue) tracksuit pants
White runners