An easy to use phone app that gives you the flexibility to place orders at a time and place that suits you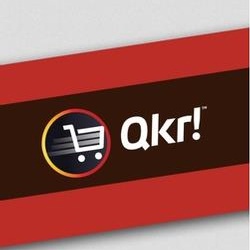 For quicker, hassle-free school  payments, try Qkr! today.  Getting started is easy, try it yourself.
Download the Qkr! app.
Register your information
Find your school
Register your child or children
Once this is completed you are well on your way to order directly from your phone.
Please note, American Express is not accepted through Qkr
What can I order/pay for via Qkr ?
Access Qkr from your iPhone, Android, iPad, PC and Laptop
Guide to Getting Started – iPhone, Android, iPad
Guide to getting started PC and laptop
FAQ
Qkr - Reset Masterpass
Qkr - Forgotten Password
Qkr - Remove unwanted items from your shopping cart
Qkr - How do I cancel orders already paid for
Qkr - Should I log out from the Qkr app for security
Qkr - How are Qkr refunds processed
Qkr - How do I add or update a photo of my child on the Qkr app
Qkr - eReceipts keep track of your payments
Qkr - Multiple cards and keeping your payment safe