Welcome to St Joseph's Narrabeen!
As a member of system of schools known as Catholic Schools Broken Bay we seek to inspire hearts and minds to know Christ, to love learning, to use their talents to be the very best they can be.
Our principal, teachers, staff and parents all work together with the wider community to deliver authentic, professional Catholic education with care and compassion.
Our teachers are committed to the mission of Catholic education and apply evidence-based practice to support students to learn and to gain the confidence and skills to enable them to be involved in shaping their society.
DO YOU NEED TO BE CATHOLIC TO ATTEND A CATHOLIC SCHOOL?
No, your child does not need to be Catholic to enrol at a Catholic school. While preference is given to students of the Catholic faith, particularly if you are active in your parish, our schools welcome families from all backgrounds or faith traditions who share in our mission and purpose.
K-12 Enrolment
Catholic Schools Broken Bay will offer K-12 enrolment during 2021. This will provide you with some surety around enrolment in our systemic secondary colleges for your child.  As the option becomes available, you will only need to provide one enrolment form in primary school and complete a simple updated form to ensure your child's continued enrolment in one of our systemic secondary colleges.
At St Joseph's we are happy to consider applications for enrolment at any time. We follow enrolment procedures as set out by the Broken Bay Diocesan Enrolment Policy.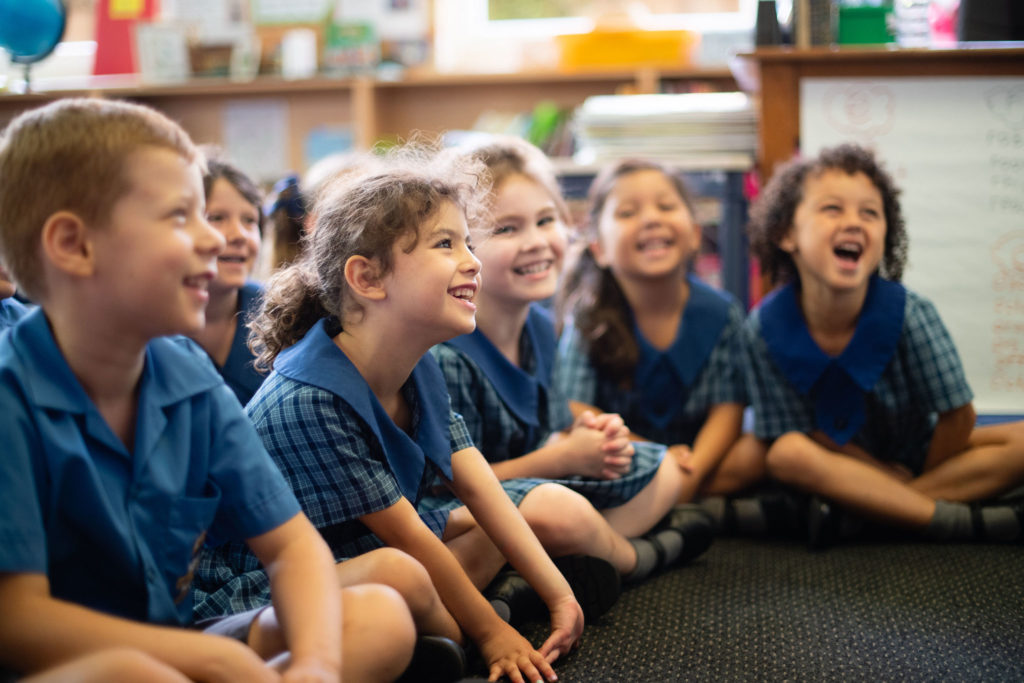 WE ARE CURRENTLY ENROLLING – KINDER 2022

We look forward to welcoming you and your family to our beautiful school
We offer tours of our grounds, so you can see what day to day life at our beautiful school is like. Contact us to book a school tour via email or phone: 9913 3766
Inspired by our motto, "Build in Love", we at St Joseph's School, Narrabeen, a Catholic community of learning, are committed to providing our children with a challenging education in a safe, nurturing and inclusive environment.
Enrolment procedures for Kindergarten:
Enrolment interviews for Kindergarten are typically conducted throughout the month of May.
To apply, please download forms or contact our school office on 9913 3766 and we will forward our enrolment package. All the required forms are included in the package including some additional information about the school.
It is essential that you attach a copy of your child's Birth Certificate and Immunisation History Statement to the application.  Original documents must be sighted by the school office.
Once completed, please forward the application and associated documents to the school.
Upon receipt of the application an interview will be arranged to meet with the principal the year prior to when your child is eligible to commence school. We ask that your child attends the interview which takes around 30 minutes.
Enrolment procedures for Years 1-6:
Applications for places in Years 1 to 6 can be made at any time.
An offer of enrolment into classes is dependent upon availability of places.
To apply, please download enrolment forms below or contact the school office for an enrolment pack to be mailed.
It is essential that the original Birth certificate is provided (to be sighted) when submitting your child's Application for Enrolment.  Copies of documents can be made by the school office.
Please provide your child's most recent school report and Naplan (if applicable) with the application.
You will be invited to an interview with the principal the year prior to when your child is eligible to commence school. Please bring your child with you. The interview usually takes around 30 minutes.
Enrolment into St Lucy's Satellite Class
The St Lucy's Satellite Class at Narrabeen is part of, and operated by, St Lucy's School, Wahroonga.  For all enquiries regarding enrolment into St Lucy's classes, please contact the Registrar at St Lucy's on 9487 1277.
A Message from Bishop Anthony about school fees
"While our schools rely heavily upon the support of our families, I have asked that at this time, we do all we can to support those suffering immediate financial hardship.  It is with this in mind, I have approved new initiatives that will be implemented immediately, and are targeted specifically to families in greatest need, as a result of financial stress."
LEAP@Home packs – a great way to ease into school for incoming Kindergarten students
Enrolment Application
To complete the Enrolment Application Form either print and fill in, or download and fill in online.  If completing online:
download the enrolment form
complete your child's details
save the form as a PDF
Print and drop in to the school office with original supporting documents.  Upon receipt of your child's completed Enrolment Application we will invite you to meet with the Principal.
Enrolment Application Form, Parish Involvement Form & Release of Information
Additional Information regarding Enrolment at St Joseph's Primary School, Narrabeen
Kinder 2022 Enrolment - Important Dates
Our Enrolment Process
Parent Permission
2021 School Fees Schedule
About Us - Our 2021 Open Day Presentation
Playgroup
Monday mornings at St Joseph's in the Parish Hall – 9.15am-10.45am – enter via Lagoon St school gate.
Currently on hold due to Covid 19.  Please contact the Parish Office 9982 1058
COVID-19 Fee Relief
Catholic Schools Broken Bay are committed to supporting families as the impact of COVID-19 continues to be felt in the community. No family will be excluded from our school because of financial difficulties.
Even if you have not enrolled yet, we would like to offer the following help with school fees if you need it:
A full reduction on ALL fees if your family gets JobSeeker.
A 50%+ reduction on ALL fees if one parent in your family gets JobKeeper.
If you are unsure if your family can get fee help or need assistance completing the form please contact our COVID-19 FEE HELP HOTLINE on 9847 0728 (8am – 4pm Monday to Friday).
Please find the 2021 Fee Relief Request form here and return to us at schoolfees@dbb.org.au
Link The Lakes Parish Playgroup