The Good Samaritan Sisters who founded St Joseph's ordered their lives according to The Rule of St Benedict. This important spiritual guide for living in community was written around 1500 years ago and is a central text of western monasticism.
A Benedictine spirituality is based upon three vows: prayer, obedience and stability.  Benedictine's commit to a life of prayer, work and study.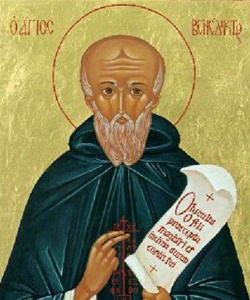 Although written for monks, The Rule (as it is known) has great relevance for all Christians living and working in communities including schools.
Our four core values are evident in the relationships and work at St Joseph's and are based on the following Benedictine and Gospel values:
Community Living
We are committed to forming stable relationships in the community. To become who we are by our relationships with others.
Respect for persons
We reverence all persons. To respect each person regardless of class, cultural background, or professional skill.
Compassion for those in need
The Good Samaritans Sisters were founded on the Gospel story of the same name. "Give your helping hand to those who need it!"
Stewardship
We reverence all creation. To appreciate and to care lovingly for all the goods of this place.