Nerves were high. Palms sweaty. But the Grand Finalists performed in pure style!
An incredibly diverse range of acts took the stage for the very first Joey's Got Talent Grand Finale. Cheered on by their fellow classmates, the stars delivered fabulous performances.
Watch the Top 10 finalists right here!
Year 2 student Manaia wrote and read aloud her moving poem, 'Flowers'.

Brother and sister duo Kaden and Kaiya demonstrated what hard work and passion looks like, with their flawless performance of 'Faded'.

Willow and Iris sung their hearts out in a performance that would undoubtedly make original singer Pink proud.

It was straight up, classic comedy gold from Sinclair and Max, who demonstrated perfect timing with their epic routine. In devastating news, they also announced their retirement.

There was no denying the energy and enthusiasm of this choreographed perfection from Year 1's Sia and Ciara.

Stay hydrated kids! That was the message from Year 2's comedy duo, Louis and Paddy.

Kindy's Florence and Year 6 leader Ruby moved everyone with their heartfelt singing, proving their 'buddy' relationship was stronger than ever. Break out the tissues for this one!

We challenge you not to stomp your feet and clap along with Year 5's Kyah's impressive and beautiful rendition of 'Wellerman', 2021's sea shanty sensation!

This is the anthem of the year! We all need a little Christmas, but Roslyn and Abby delivered so much more than that with their amazing song and dance routine.

Year 6's Mia, Stella and Ruby took to the stage one final time to demonstrate just why they're such unforgettable members of Joeys – with their beautiful harmonisation and Stella's flute skills, this was an act to remember.

An impressive range of acts at the Joey's Got Talent heats!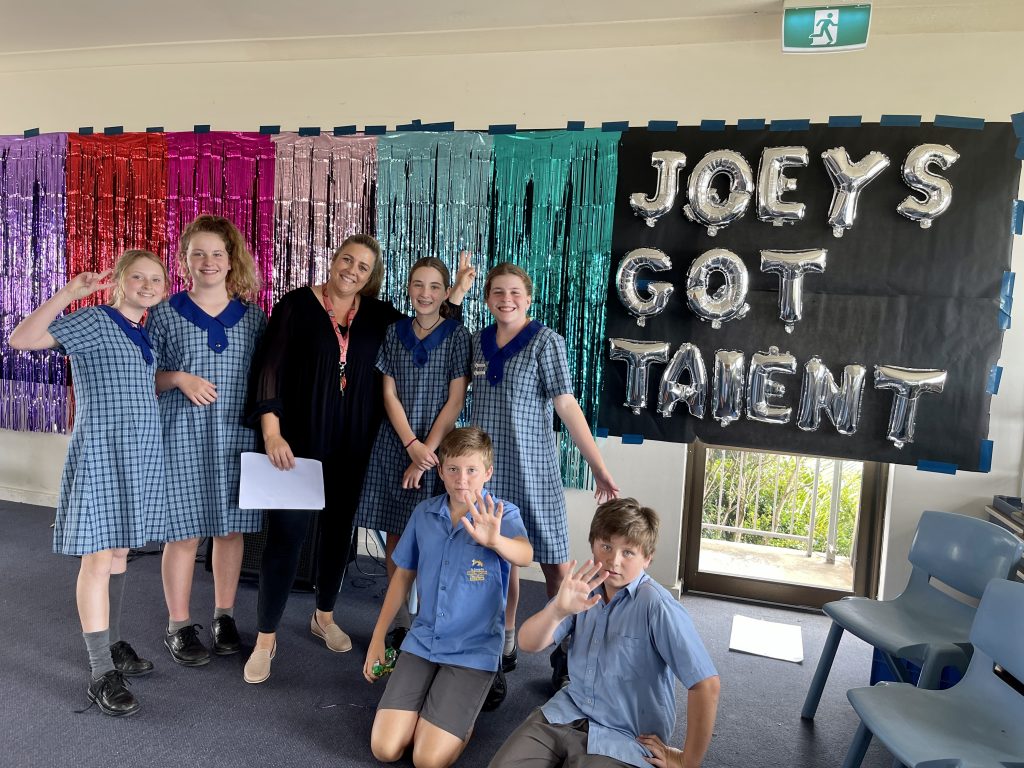 Week 10's lunch breaks were taken over by our all-school Talent Quest heats! With acts including comedy, paper airplane making, singing, dancing, a ventriloquist performance, a DJ set, musical recitals, interpretive dance and more. What a range! Below are some videos of the event so you can all experience the magic…
HEAT 1: YEARS 2 and KINDY
The heats of Joey's Got talent kicked off on Monday, with a stunning display from Years 2 and Kindy.
Owen and Jeremiah showcase their epic paper airplane making skills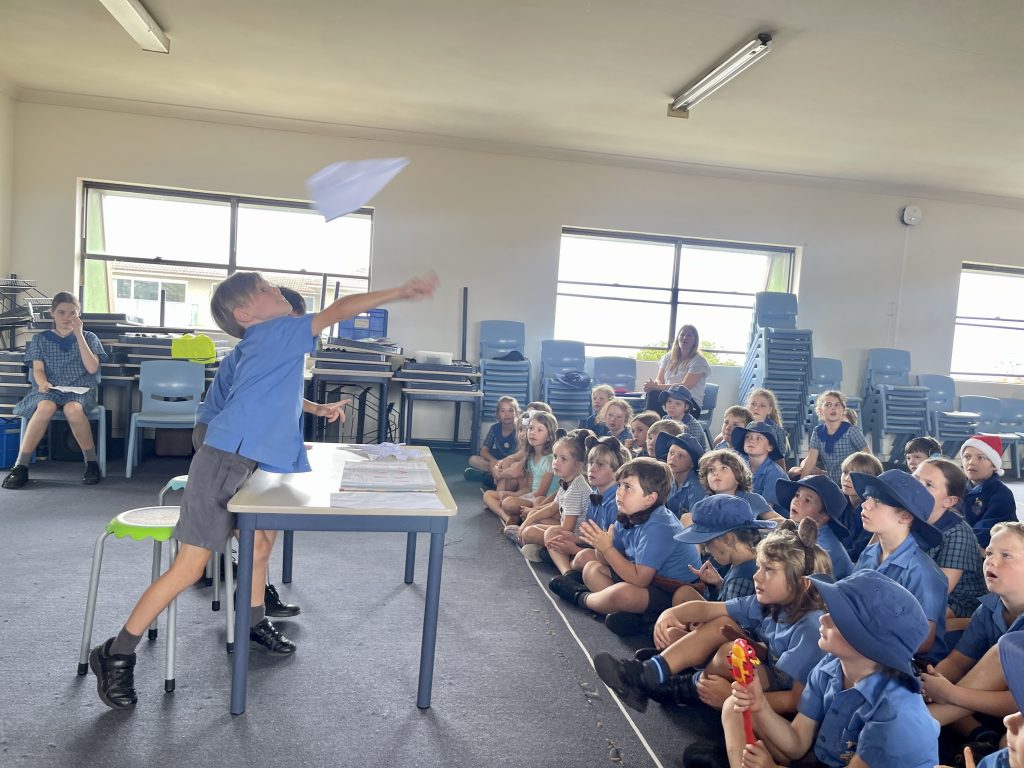 Manaia reads her beautiful poem – 'Flowers'


Comedy act Paddy and Louis perform 'Maximum Hydration'
Dancing and singing superstars – Year 2's Elli, Sabrina, Isla, Poppy and Charli perform 'Jingle Bell Rock'

A hilarious take on what life would be like if students ran the school – by Ella and Ayla

The amazing tones of Elliott, as he performs 'Dance Monkey'

Kolton and Tiny Tim in a classic comedy caper!

Kindy's Florence and her Year 6 buddy Ruby, in a truly magical singing duet

Isobel and Skye perform a beautiful dance

Jaxon and Harry tackle some very funny food tricks!

Kindy's Ryder, Guilly, Liam and Mya get dancing with some seriously great moves!

HEAT 2: YEARS 1 & 3
WOW! The talent on offer during Tuesday's show had the crowd enthralled! What incredible dancing, singing, acting, playing, performing and dj'ing we were treated to, from a very passionate Years 1 and 3.
Kaiya and Kaden performed a stunning rendition of 'Faded' on keys and drum

Austin threw up the rock horns with his amazing guitar performance!

Millie and Skye were so graceful and magnificent in their free-form dance

Abbey and Poppy gave a beautiful musical performance

EJ did an amazing job with this Christmas hit – sung with so much enthusiasm!

Year 1's Ronan, Matti, Rasmus and Lucas had all all intrigued with their mystifying rendition of popular video game, Among Us

Roslyn and Abbey gave it their absolute all with their singing and dancing performance

Ciara and Sia had everyone cheering and singing along with their classic Christmas dance

Benji demonstrated his focus and hard work with his flawless piano performance

There were tears in the audience as Willow and Iris delivered a heartbreakingly delicate and gorgeous rendition of 'Cover me in Sunshine'

They got the whole crowd on their feet dancing and stomping! DJ legends Eva and Isabel smashed it with their awesome set

HEAT 3: YEARS 4, 5 & 6
What a way to close out the heats! Our senior years absolutely blew us all away with the wealth of talent on offer. We saw everything from magic tricks to drama, flute and piano playing, a sea shanty, dancing, singing and some hilarious comedy too!
Jess and Lerryn were simply magnificent with their mind-blowing magic act!

Immy & Emily had us all laughing (and secretly hungry) with the fun comedy skit

The Year 5 girls Jacinta, Emily, Jessica, Jasmine and Simiah showed off some epic moves with their group dance

Monique's singing was breathtakingly beautiful

Max F and Sinclair showed perfect comedic timing with their quality act! What a duo!

Jessica's solo performance was spellbinding

Ava's comedy act really hit the funny bone hard – with some awesome jokes!

Vivien's piano performance gave her a chance to show off her impeccable timing and natural rhythm

Ruby, Stella & Mia were a fabulous trio, with some incredible harmonisation and Stella on the flute

Year 5's Emily has never had singing lessons – but her natural talent was obvious with this gorgeous performance!

Kyah's sea shanty had everyone stomping their feet as she demonstrated her stunning vocal abilities!

The Finalists are Announced
With such a huge array of great acts, it was always going to be a tough job to whittle the acts down to a final 10. Year 6's core judge Luke did a magnificent job as he announced the Top 10 Finalists, congratulating all students for taking part and trying so hard.
It takes a confident, brave person to stand up in front of the school and give it your all – and we are SO impressed and inspired by the stars of Joey's Got Talent! The judges had a torturous time selecting the 10 finalists, with such impressive talent and range. The Grand Finale will be held on Monday!
Here are our top 10 Finalists, in no particular order…
Manaia – for her beautiful poem – 'Flowers'
Kaiya and Kaden – for their stunning rendition of 'Faded' on keys and drum
Willow and Iris – for their gorgeous rendition of 'Cover me in Sunshine'
Max F and Sinclair – for their perfect comedic timing with their quality act!
Ciara and Sia – for their classic Christmas dance
Ruby, Stella & Mia – for their incredible harmonisation and performing
Paddy and Louis – for their comedy performance 'Maximum Hydration'
Kyah – for her stunning vocal abilities as she performed a sea shanty
Roslyn and Abbey – for their amazing singing and dancing performance
Kindy's Florence and her Year 6 buddy Ruby, in a truly magical singing duet