Parent Teacher interviews will be held during Week 9 of Term 2 (24 June – 28 June 2019).  Year 2 will also have interviews on 2 July 2019.
YEAR 6 PLEASE NOTE:  Due to Mrs Paul being on long service leave, parent/teacher interviews for year 6 will be held later in Term 3.  You will receive a separate booking code closer to the time.
Interviews are for 15 minutes, with morning, afternoon and evening timeslots available.  You can now book interviews at times that suit your family best.  Split families are welcome to make separate interviews.
Go to www.schoolinterviews.com.au and follow these simple instructions below.
BOOKINGS CLOSE:    Friday 21 June 2019 at 3pm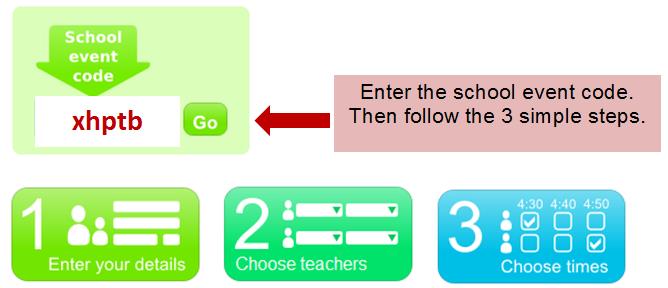 When you click finish, your interview timetable will be emailed to you automatically – check your junk mail folder if you do not receive your email immediately.
Parents can change their interview bookings, any time prior to the closing date, by re-visiting the www.schoolinterviews.com.au website, and using the event code.
Remember to use the same name and email address, you used when you made your original booking.