As part of the school's PDHPE Program in Term 2 all the children in Years 3 to 6 will participate in a Gala Day. This year they are required to select a sport they wish to participate in. They all have the choice of Eagle Tag or Rugby League.
Please discuss with your child the sport he or she would like to choose, and complete the Google Form permission note by Thursday 6 June.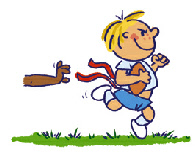 DATES:
Years 3 and 4 – Tuesday 2nd July 2019
Years 5 and 6 – Thursday 4th July 2019
EAGLE TAG:  This is open to all boys and girls and is held at North Narrabeen Reserve, North Narrabeen.
RUGBY LEAGUE:  Students who choose Rugby League must have a current rugby registration and are required to supply their own protective head gear, mouthguards and boots with non-metal studs. Please be aware they will be involved in tackling. This is to be held at Boondah Reserve.
TRANSPORT:  Students will walk to and from the venue.
UNIFORM:   Students playing eagle tag are to wear their sports uniform including a hat. Students playing Rugby League will be given a jersey to wear on the day.
FOOD AND DRINK:  Please bring recess and lunch, you may wish to include some extra healthy snacks. Plenty of water to drink is essential. There is no canteen.
SUNSCREEN:  Parents, sunscreen must be applied at home for the day. It is advised that sunscreen is brought on the day for your child to re-apply throughout the day.
PARENT HELPERS:  We need parents to help with team supervision for the day. If you can offer your time to help supervise your child's team on the day please indicate below. This would be greatly appreciated.
Thank you for your continued support and assistance.
Pauline Carlyle/Lisette Calleja, Emily Hobson/Kath McCamey, Olivia Preston and Kath Fogwell
Stage 2 and Stage 3 Teachers