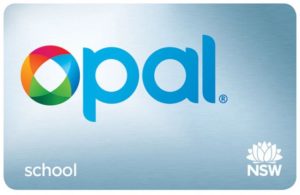 Transport NSW has advised that school student opal card applications for 2019 open from Monday, 15 October 2018.
Students progressing to year 3 do not need to re‑apply if they:
are continuing at the same school
are residing at the same address
have not been sent an expiry notification from Transport for NSW.
Students leaving St Joseph's to attend high school / another school will need to re-apply / update their information.
Link to re-apply / update:  https://apps.transport.nsw.gov.au/ssts/updateDetails
Where a student meets the new distance eligibility, the system will automatically update their entitlement. .
Parents of students who have an entitlement approved under a medical condition which is due to expire will receive a notification from Transport NSW advising them to re-apply.
Applications need to be submitted before 31 December 2018 to ensure student entitlements are updated and their current entitlement/card is not cancelled. If their application is submitted after 31 December 2018, the system will automatically cancel a card and a new one will need to be issued.
Students in the Opal network applying for a SSTS entitlement for the first time will receive their card via Australia Post mail at their nominated postal address. Cards will be mailed out during December 2018 and January 2019.
Questions – please refer to the Transport NSW Opal Card website here.